Intech Mechanical has embraced the concept of Building Information Modeling (BIM) since 2004.
We understand that BIM is not just a 3D model of the building and the systems that will serve it, but rather a process that leverages technology to manage the flow of information on a project from inception to turnover. We employ Building Information Modeling across the board on all of our market sectors from design build to plan and spec scopes. At Intech we endeavor to seek, educate and implement technologies and processes that will continue to improve our BIM deliverables.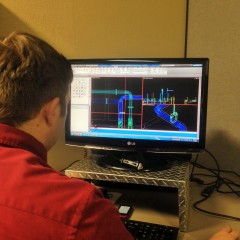 Our Virtual construction Services Group is comprised of highly talented individuals who are professionals in their fields ranging from plumbing and mechanical construction, value engineering and LEED® design to technology implementation and development to support our BIM efforts. They have over 100 years of combined field experience and over 65 years of combined detailing and BIM experience.
We utilize a diverse group of technology tools, both stand alone and cloud based, to accomplish a finished product that supports purchasing, pre-fabrication, just-in-time delivery and installation of the building systems. We utilize a single database of the services and components that make up the plumbing and mechanical systems of the building in a cloud environment. This means that our team can work on any project "live" from anywhere that they have a connection to the internet. This provides us with uncompromising standards across all projects as well as flexibility to coordinate and collaborate both internally and with other project team members. We also utilize a single source access point, with our Intech Mechanical BIM Site, as a hub for all project documentation from contract drawings to daily logs which can be accessed by all project team members from the office to the field.